Photo Credit: Erick Pleitez
A touchpoint is the moment your company actually interacts with someone. It can be as simple as a customer picking your product up off a store shelf, seeing a super bowl ad, or a customer calling your support line. A consumers relationship with a company/brand is defined by the touchpoints they have had with it.
There are tons of explanatory diagrams if you search for touchpoints. Here's one I thought illustrated what and where they are clearly: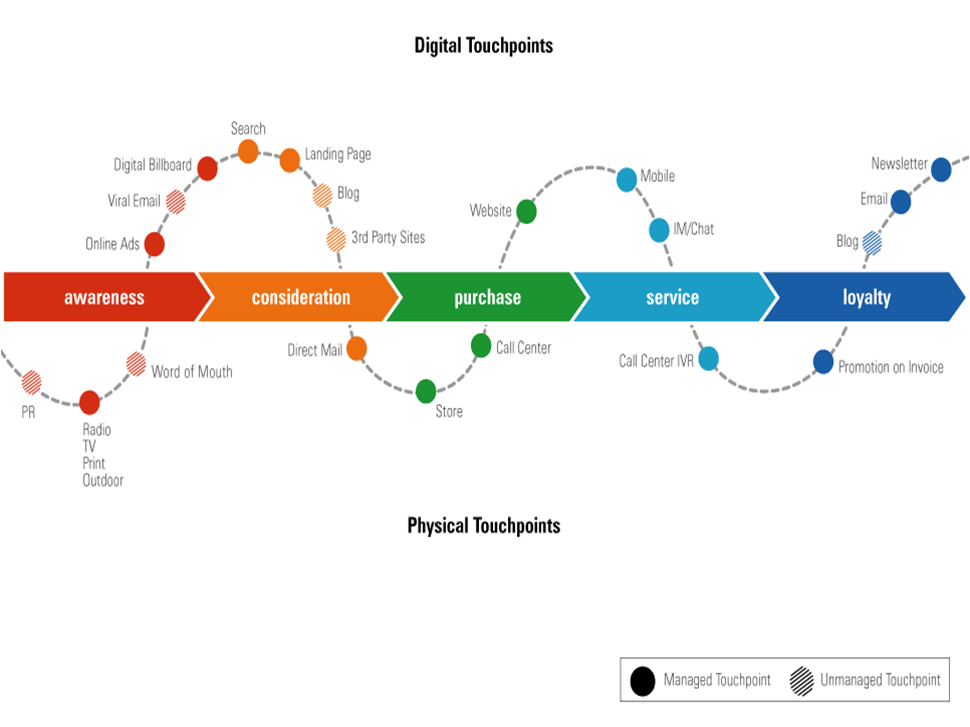 Source: http://b2bstories.com/?attachment_id=38/
So why am I writing about this?
Touchpoints are something I think about a lot with the web hosting industry. In fact, Review Signal is built upon one of the few touchpoints that exist between many web hosting customers and their providers. Twitter is one giant conduit for interactions.
Why I chose to write about this today specifically was an incident that was posted on reddit.
"I just want to share with the community my recent hosting experience with WiredWebWork.com.

I opened my account with them on January 25th, 2014 to host my personal portfolio website and to offer temporary hosting for my clients. The site has samples of all my past work and is essentially how potential clients become actual clients.

On Friday and Saturday (Feb 1st), I sent out 9 emails to various clients and potential clients about work they needed done. All afternoon Saturday I thought it was pretty weird that I hadnt heard back from a single email. Eventually I figured it was probably just people being people on Superbowl weekend and shook it off.

Late Saturday evening or early Sunday morning, however you want to look at it, I tried to upload the changes I made to a clients website. FTP wouldnt connect. I opened up my browser and went to my site only to see cPanels "Account Suspended" page. What the hell I thought to myself. This cannot be right, so I head over to their website www.wiredwebwork.com to see if I can open a ticket. Their site shows the cPanel Maintenance page. Okay, I thought maybe they are having some technical issues, which it turns out they were. I proceeded to call them to try and see what exactly the problem is, even though I knew nobody would answer at 2am on a Saturday night. No big deal.

I head on over to Twitter to check and see if they have an account there. Sure enough, they do. Like any person familiar with social media would do, I sent the company (@wiredwebwork) a tweet asking about the down time.

http://i.imgur.com/Ob6GyGX.png


To me this was completely normal behavior. Before heading to bed I hopped on my phone to check if they had a Facebook account. Maybe they posted something there I thought. Turns out they had one, but didnt post anything so figured I would send them a quick message. Got a reply there saying that they had some harddrive failure. No big deal, things happen.

http://i.imgur.com/7E7y9rH.png


This morning I wake up and check my email to find out that my account was actually being closed today. Not because I didnt pay my bill (I do) instead they close my account because I sent them a tweet. Yes, that simple tweet I posted above got my account terminated.

http://i.imgur.com/qgVWtU4.png


Im not upset so much about the closing of the account. I'm upset about the comments in the email from the owner of the company.

"This message is to serve as notification that your account will be terminated from our network on or by February 2nd 2014. You will be given a full refund as well. If you have any questions or concerns, why not take them up with twitter as opposed to trying to contact the company directly.(I hope you detect the hint of sarcasm)."

Im also upset about the fact that I had potential clients going to my website and seeing an account suspended page. Talk about a major turnoff. I wouldnt hire me if I saw that. I'm mad about the time I spent talking with those clients, writing out email after email trying to get some more work.

Sorry for the long rant. I just needed to share so that other people hopefully wouldnt run into the same problems as I did with wiredwebwork."
The story can be summed up as follows:
Customer finds his website down
Customer tweets dissatisfaction to web hosting provider
Provider terminates account for tweeting about downtime
Provider (potentially) goes into self destruct mode in public forum
Conclusion
While this specific case may be noteworthy, I think the bigger picture is more interesting from an industry perspective. Web hosting companies are given few direct and controlled touchpoints with their customers. There are a huge amount of uncontrolled touchpoints; for example, every time the customer/the customer's customer uses the customer's website. The opinions people form of web hosting companies relies so heavily on these few touches that it would be crazy to squander them.
This is also why Review Signal is built around monitoring one of these critical touchpoints. I believe it's an accurate pulse on what customers really think about a company. Web hosting companies often ask me, 'How can we improve our ranking?' and the answer is always provide better service. Improving your touchpoints makes customers happier. My advice is don't squander such valuable opportunities to make a customer happy, especially when the conversation is happening in public. The repercussions of failing (or going out of your way to be awful to a customer) will hurt your brand.
The following two tabs change content below.
Kevin Ohashi is the geek-in-charge at Review Signal. He is passionate about making data meaningful for consumers. Kevin is based in Washington, DC.
Latest posts by Kevin Ohashi (see all)