This post is based off WordPress Hosting Performance Benchmarks (2014).

Overview
Pantheon is one of the new comers into the managed WordPress space. They came over from the Drupal world where they focused on developers and enterprise. They've taken their developer tools and brought them to the WordPress space and made quite a splash leaping into our top tier of managed WordPress hosting companies.
The Plan
All testing was done on the Professional plan (shared) and using the WordPress stack. The plan had 20GB of space and allowed 100,000 visitors per month. The price was $100/month.
Performance
LoadStorm
The first performance test was done with LoadStorm. Pantheon made it to the final round of testing where 2000 concurrent users were logging into WordPress and browsing the test site. The test was designed to test non-cached performance by logging users into WordPress. It caused many hosting setups to crumble. You can see Pantheon's result in this graph (click on it to play with the interactive results):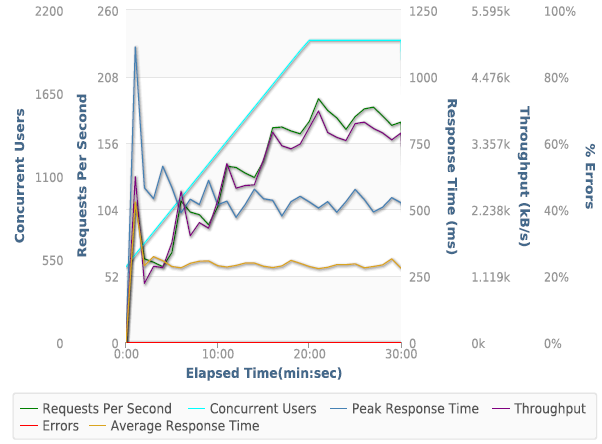 Pantheon had a whopping zero errors and scaled without issue.  LoadStorm independently analyzed my testing and named Pantheon as performing the best of any WordPress company tested.
Blitz
The second load test that was run on Pantheon was Blitz. Blitz was used to test cached performance. It simply requested the home page from 1-2000 times per second.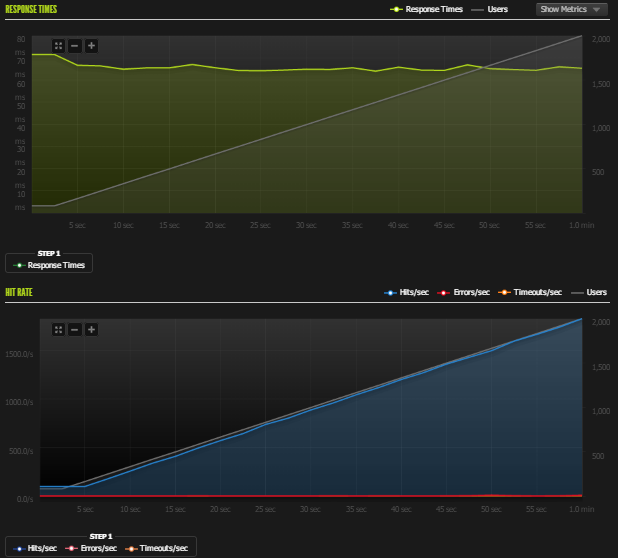 Pantheon's result looks like it was from a textbook. It maintained roughly the same response time from one to two thousand concurrent users. Full Blitz Results (PDF)
Uptime
Two third-party uptime monitoring services (StatusCake and UptimeRobot) tracked the test site for a month. The results for Pantheon in both cases was perfect uptime. There's nothing more to say than that.
WebPageTest
"WebPagetest is an open source project that is primarily being developed and supported by Google as part of our efforts to make the web faster." WebPageTest grades performance and allows you to run tests from multiple locations simulating real users. Pantheon was tested from Dulles, VA, Miami, FL, Denver, CO, and Los Angeles, CA.
| | | | | | |
| --- | --- | --- | --- | --- | --- |
| Company | Dulles,VA | Miami, FL | Denver, CO | Los Angeles, CA | Average |
| Pantheon | 0.654 | 0.828 | 0.923 | 0.954 | 0.83975 |
There was absolutely no issues with their WebPageTest results, it loaded very quickly with a great average speed of under one second.
Conclusion
Pantheon specialized in Drupal hosting, so I was wondering how well it would translate to WordPress. The short answer is, it converted over really well. They had a flawless run on the LoadStorm test - zero errors and not even any spikes in response time over 30 minutes. Pantheon is one of the more expensive options on the market, but they make a very strong case for it. Perfect uptime and near flawless load testing sent them easily into the top tier.

The following two tabs change content below.
Kevin Ohashi is the geek-in-charge at Review Signal. He is passionate about making data meaningful for consumers. Kevin is based in Washington, DC.
Latest posts by Kevin Ohashi (see all)