I run Review Signal to be an unbiased source of information about web hosting companies. I try to avoid injecting my personal opinions into the discussion about a web host's quality and service. I try to explain what I see in the data collected from hundreds of thousands of people.
However, there are rare moments when you just need to call a company out because the issue is so important.
Today, during a live Google Hangout Q&A, Russ Reeder, the President and COO of Media Temple said,
"The employees at GoDaddy never supported it. It was one person, who had a voice, and they are no longer at GoDaddy. It was an employee, it wasn't the core management."
I understand GoDaddy just purchased your company. I've watched your twitter account explode trying to prevent customers from leaving because of their acquisition. However, this just doesn't square with the story told during the actual SOPA incident.
Here's then GoDaddy CEO Warren Adelman's statement,
Go Daddy opposes SOPA because the legislation has not fulfilled its basic requirement to build a consensus among stake-holders in the technology and Internet communities. Our company regrets the loss of any of our customers, who remain our highest priority, and we hope to repair those relationships and win back their business over time.
And the full press release on the turn around, [emphasis added]
SCOTTSDALE, Ariz. (Dec. 23, 2011) - Go Daddy is no longer supporting SOPA, the "Stop Online Piracy Act" currently working its way through U.S. Congress.

"Fighting online piracy is of the utmost importance, which is why Go Daddy has been working to help craft revisions to this legislation - but we can clearly do better," Warren Adelman, Go Daddy's newly appointed CEO, said. "It's very important that all Internet stakeholders work together on this. Getting it right is worth the wait. Go Daddy will support it when and if the Internet community supports it."

Go Daddy and its General Counsel, Christine Jones, have worked with federal lawmakers for months to help craft revisions to legislation first introduced some three years ago. Jones has fought to express the concerns of the entire Internet community and to improve the bill by proposing changes to key defined terms, limitations on DNS filtering to ensure the integrity of the Internet, more significant consequences for frivolous claims, and specific provisions to protect free speech.

"As a company that is all about innovation, with our own technology and in support of our customers, Go Daddy is rooted in the idea of First Amendment Rights and believes 100 percent that the Internet is a key engine for our new economy," said Adelman.

In changing its position, Go Daddy remains steadfast in its promise to support security and stability of the Internet. In an effort to eliminate any confusion about its reversal on SOPA though, Jones has removed blog postings that had outlined areas of the bill Go Daddy did support.

"Go Daddy has always fought to preserve the intellectual property rights of third parties, and will continue to do so in the future," Jones said.
The statement from the CEO is slightly ambiguous, but the press office statement makes it pretty clear that they were working with SOPA legislation. GoDaddy and their General Counsel were working on this, there is no mention of one employee doing this without approval. They worked for months on SOPA legislation. The original statements don't make SOPA sound like some fringe issue, they are framing it as they were actively engaged in its crafting and have changed their judgement about the content/outcome of the legislation.
I tried to get an answer from Russ Reeder and Damian Sellfors, but they ended the Q&A session right before my question.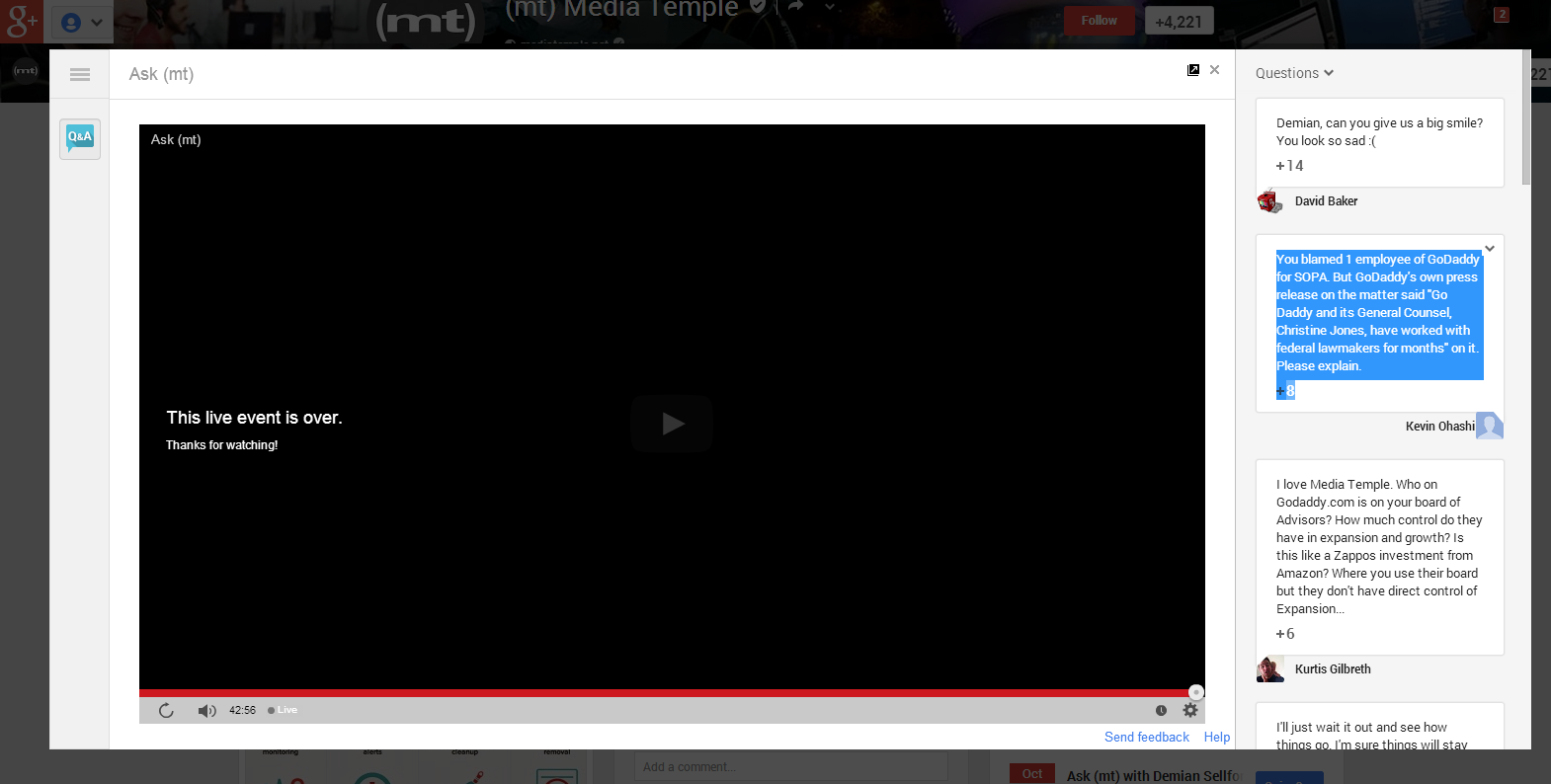 The rogue agent story that has been passed off today just doesn't match up well. For an issue like SOPA, which is near and dear to so many internet users, this type of spinning needs explanation and clarification.
If you want to sell out your company and earn millions of dollars, that's your prerogative (and congratulations on having enough money to do whatever you want for the rest of your life). All I ask is you be honest with your consumers.