This post is based off WordPress Hosting Performance Benchmarks, where you can read the full details of how Media Temple performed against the competition.
Overview
MediaTemple [Reviews] is a new entrant into the managed WordPress hosting space along with its parent brand GoDaddy. It was acquired by GoDaddy in 2013 and both have jumped head first into the WordPress space sharing a lot of technology. Media Temple has a generally more positive reputation than its parent company and targets developers and designers with a premium offering. MT wasn't in our first round of testing but they did very well in our second round of testing. Media Temple also recently changed their plans and pricing structure, offering plans that scale much higher than the one size fits all plan originally offered. The plan used during our testing was more expensive and had a slightly fewer features. So it seems new customers would get slightly better value and the ability to scale.
The Plan
All testing was done on Media Temple's WordPress hosting package. The plan had 20GB of SSD disk space, unlimited bandwidth usage, allowed 3 sites and had Git and Staging technology. The cost was $29/month.
Performance
LoadStorm
The first performance test was done with LoadStorm. Media Temple made it to the final round of testing where 2000 concurrent users were logging into WordPress and browsing the test site. The test was designed to test non-cached performance by logging users into WordPress. It caused many hosting setups to crumble. You can see MT's result in this graph (click on it to play with the interactive results):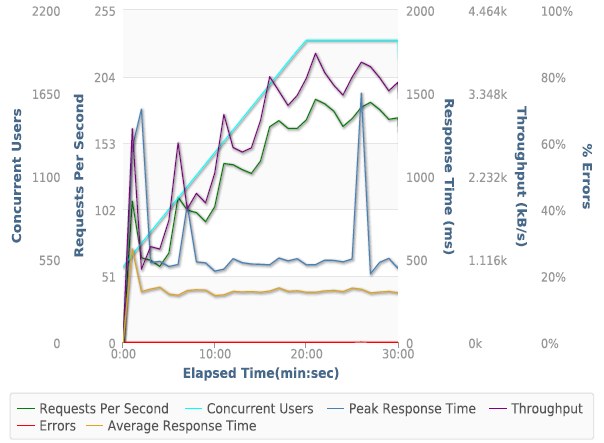 Media Temple handled this test barely showing signs of struggle. A staggering low error count of 9 (out of more than 249,000 requests)  one of the lowest peak response times at under 1.5 seconds.
Blitz
The second load test that was run on Media Temple was Blitz. Blitz was used to test cached performance. It simply requested the home page from 1-2000 times per second.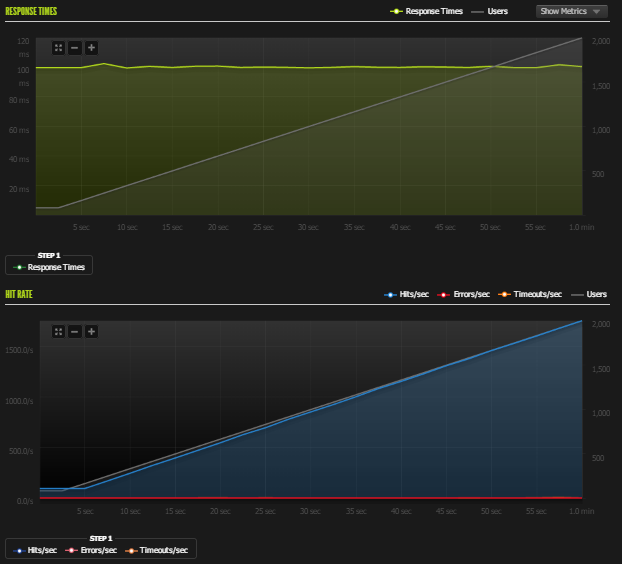 Media Temple's Blitz results were near textbook. Flat response times while users scaled to 2000 and a <0.1% error+timeout rate. Full Blitz Results (PDF)
Uptime
Two third-party uptime monitoring services (StatusCake and UptimeRobot) tracked the test site for a month. The results for Media Temple showed 99.81% and 100% uptime respectively.
WebPageTest
"WebPagetest is an open source project that is primarily being developed and supported by Google as part of our efforts to make the web faster." WebPageTest grades performance and allows you to run tests from multiple locations simulating real users. MT was tested from Dulles, VA, Miami, FL, Denver, CO, and Los Angeles, CA.
| | | | | | |
| --- | --- | --- | --- | --- | --- |
| Company | Dulles,VA | Miami, FL | Denver, CO | Los Angeles, CA | Average |
| Media Temple | 1.516 | 0.983 | 0.955 | 0.555 | 1.00225 |
There was absolutely no issues with their WebPageTest results, it loaded very quickly with a great average speed of one second.
Conclusion
MediaTemple [Reviews] is interesting because I was told it was running the same technology as GoDaddy (GoDaddy bought Media Temple a year ago). They have a few more premium features like Git and a staging environment. Media Temple's performance was superb. It actually beat GoDaddy's performance in just about every measure by a marginal amount on both Load Storm and Blitz's load testing. If GoDaddy's WordPress Hosting has top tier performance, Media Temple certainly does as well.

The following two tabs change content below.
Kevin Ohashi is the geek-in-charge at Review Signal. He is passionate about making data meaningful for consumers. Kevin is based in Washington, DC.
Latest posts by Kevin Ohashi (see all)