This post is based off WordPress Hosting Performance Benchmarks (2014).
Overview
LightningBase was a new comer to our WordPress Hosting Performance Benchmarks. Lightning Base's founder, Chris Piepho, was incredibly helpful giving feedback on how the testing in Round 1 was done. His feedback played a bit part in the differences you see in Round 2, namely, cache busting. So it's without a large surprise that someone that cares so deeply about performance that their own service did remarkably well in our testing.
The Plan
All testing was done on a shared account, the Personal plan.  The personal plan allows for 1 WordPress site, 10,000 visits/month, 1GB SSD disk space, 10GB bandwidth, 20GB CDN and costs $9.95/month.
Performance
LoadStorm
The first performance test was done with LoadStorm. LightningBase made it to the final round of testing where 2000 concurrent users were logging into WordPress and browsing the test site. The test was designed to test non-cached performance by logging users into WordPress. It caused many hosting setups to crumble. You can see LightningBase's result in this graph (click on it to play with the interactive results):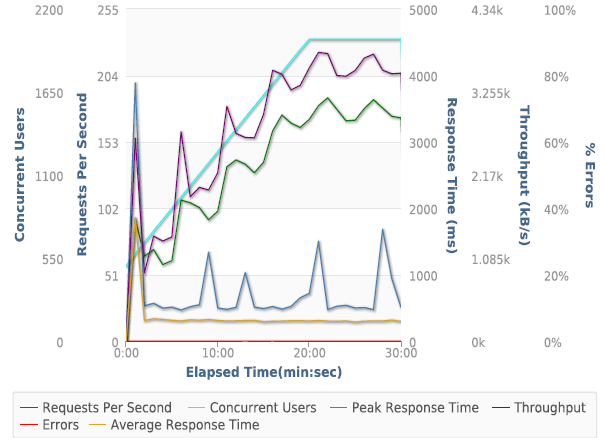 LightningBase handled the test with minimal errors (23) and showed minimal signs of struggling with the load. There appears to be a bit of delay every so often that looks like a cache update. Other than that minor detail it looks excellent.
Blitz
The second load test that was run on LightningBase was Blitz. Blitz was used to test cached performance. It simply requested the home page from 1-2000 times per second.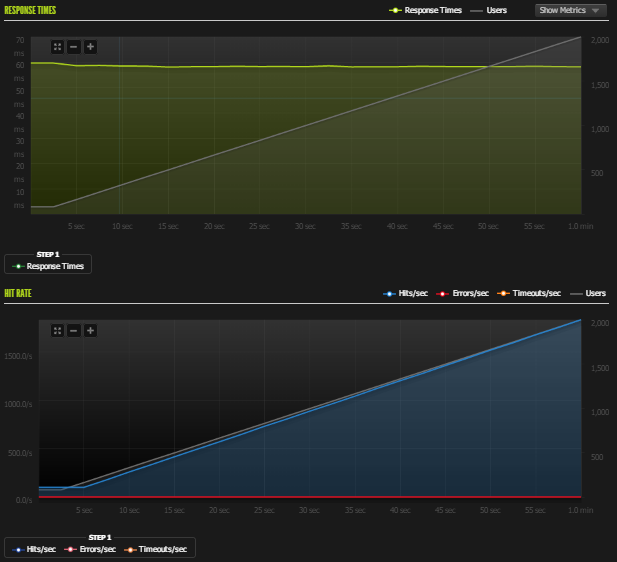 LightningBase's Blitz result looks textbook. There were no errors and no timeouts. There was a near flat response time which means it had no issues at all. LightningBase aced our Blitz testing. Full Blitz Results (PDF)
Uptime
Two third-party uptime monitoring services (StatusCake and UptimeRobot) tracked the test site for a month. The results for LightningBase in both cases was perfect uptime. In the uptime department, LightningBase had a flawless performance.
WebPageTest
"WebPagetest is an open source project that is primarily being developed and supported by Google as part of our efforts to make the web faster." WebPageTest grades performance and allows you to run tests from multiple locations simulating real users. LightningBase was tested from Dulles, VA, Miami, FL, Denver, CO, and Los Angeles, CA.
| | | | | | |
| --- | --- | --- | --- | --- | --- |
| Company | Dulles,VA | Miami, FL | Denver, CO | Los Angeles, CA | Average |
| LightningBase | 0.584 | 0.787 | 0.936 | 0.675 | 0.7455 |
There was absolutely no issues with their WebPageTest results. LightningBase had the fastest average load time of every host compared in our testing.
Conclusion
LightningBase is another new-comer that jumped straight to the top. One of the cheapest too starting at under $10 per month. LightningBase aced the Blitz testing and did excellent on Load Storm tests. There was zero downtime monitored. LightningBase belongs in the top tier of WordPress hosting companies and is delivering amazing value on top of their stellar performance benchmarks.
Visit Lightning Base

The following two tabs change content below.
Kevin Ohashi is the geek-in-charge at Review Signal. He is passionate about making data meaningful for consumers. Kevin is based in Washington, DC.
Latest posts by Kevin Ohashi (see all)